---
DragonVale World was released worldwide November 1, 2016!
Please be patient as we gather up all of the information.
This includes over 100 dragons, as well as all the other content.
Thank you.
---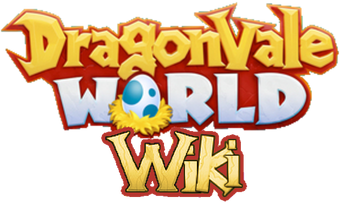 DragonVale World Wiki is a wiki that any registered user may edit!
We are a fan-made, community-driven site with no association to Backflip Studios.
---
DragonVale World is a is a simulation video game where the player manages their own park by breeding and leveling up dragons, as well as decorating their parks. The game is created by and published by Backflip Studios and is available for the iOS and Android platforms. It was released globally on November 1, 2016. Dragonvale World uses the freemium business model. Although the game is free to play, players can use their iTunes accounts to make in-game purchases of game currency to help progress through the game.
---
Backflip Studios has a Customer Support Portal to aid in communicating with the fans and players of their games. Players have an option to sign up to receive emails directly from Backflip Studios whenever a new post is added to the Customer Support Portal. Registration to receive these messages can be found here.
---
---
Friend Requests
PLEASE USE THE "FRIENDS" PAGE FOR FINDING FRIENDS.
DO NOT USE THE COMMENTS SECTIONS ON OTHER PAGES!
THANK YOU!
---
Other Interesting Links
Help Contribute Around The Wiki
DragonVale World Wiki's Active Staff Members
Administrators
Wiki Moderators
Staff Members Are Listed In Promotional Order
       A Wiki Moderator with an asterisk next to his/her name is also a Chat Moderator.
       If you have any questions or concerns, contact the appropriate individuals on their message walls.

Announcements
---
---
Enchanted Crystals

Eloni has a stockpile of Crystal Shards to exchange for freshly hatched duplicate dragons! Craft Shards into an Enchanted Crystal, then use it in the Breeding Cave to guarantee an Enchanted Dragon! Pro tip: Try combining with Boost Potions for supercharged breed targeting.
Bring 'Em Back Boost

Azza's done it again! Did you miss out on the Eve? Sumi? Pisceia? Not to worry! You can bring back limited-time dragons with this new Boost Potion! You can combine Boosts and Crystals for extra specific breed outcomes, too.
Rarity Remedy Boost

Azza's on fire, and not in the accidental hex way! Her latest boost lets you increase the odds of breeding a Rare or Epic dragon. Once you've collected the base Epic or Rare dragon, you can craft a new Boost Potion, the Rarity Remedy, to significantly increase your odds of breeding that dragon! And you know what that means? You can add an Enchanted Crystal or a Bring 'em Back Boost (or both!) to target a specific dragon. Kapow! How's that for awesome?
Park Boost Innovations!

Azza has been working tirelessly to make the Brewery more efficient and has discovered a way to get the same potency for the Encore Boost, and other great potions, with fewer ingredients! Great work, Azza!
Hexes Be Gone!

Alakawow! We charmed up many fixes around your park, including the duplicate goals issue, Dragonarium sorting problems, and much more!
---
---
---
---