Beta Content  

This content is from Dragonvale World Beta. But exists for historical purposes.
Mega dragons were not its own element, but rather seem to be a sort of rarity.
You were able to achieve the Mega rarity by collecting artifacts to get the whole collection. Then, players turned the collection in to a Mega Stone in the Wizard Halls "Artifact Set" tab.
The Mega Stone is a type of treat and will be used in a Spell that you cast on your dragon.
By collecting treats in the different location Islands you can get the chance to win artifacts by spinning a wheel. The artifacts can be sold and bought in the Market.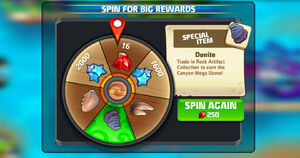 Different locations will produce different artifacts.